Used by more than 8000+ organizations around the globe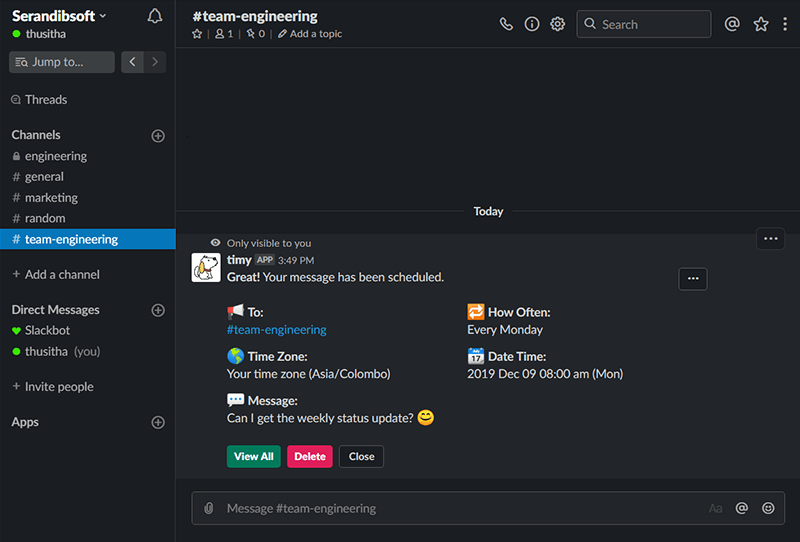 /schedule

with control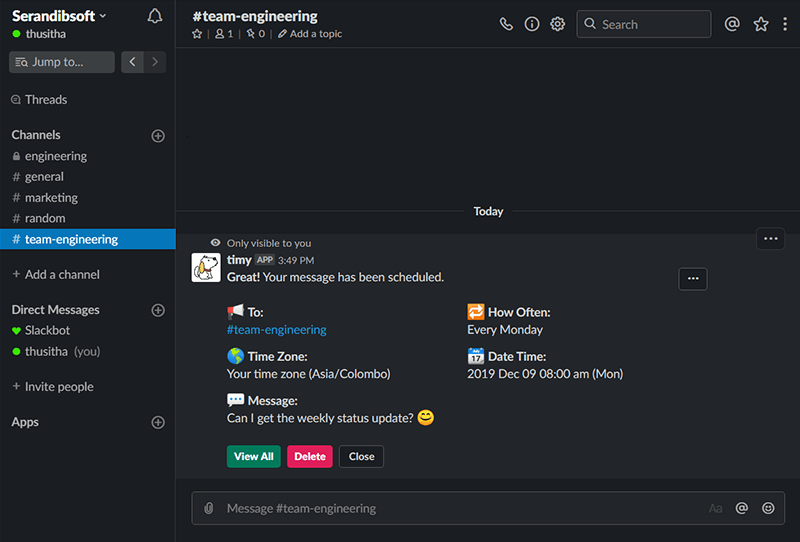 If you need a Swiss army knife for message scheduling, /schedule command is the right choice. Following are the features you'll get with this all in one slash command. This is only included with PRO plan.
Format
/schedule Your message
Examples
/schedule I'll be working from home today

PRO Features
Send recurring messages
Repeat your message on certain days like every Monday, every weekday, every month, every two weeks and etc.
Schedule in any time zone
This is great for teams working all around the world. Set the actual time without a hassle and Timy will remember your time zone mappings for future use.
Schedule messages up to 365 days
Schedule your messages for the whole next year. This allows you to send messages on month starts, year ends and what not.
Attach files to messages
You can attach files for the scheduling messages via our intuitive web app. Files are directly uploaded to Slack and we don't manipulate them at all.
Pause recurring messages
If you are on vacation, you can simple pause your recurring messages. Messages won't be sent until you make them active again.
Edit/Clone scheduled messages
You can edit or clone messages created by /schedule command. Get more things done easily with our web app.
Receive Slackbot notifications
Timy can send you a Slackbot notification when a scheduled message has been successfully delivered.
User access management
Workspace admin is able to control who can use Timy to send scheduled messages inside the workspace.
/send

a quick scheduled message
Using /send command, you can schedule a quick message within Slack. You can either use at or in suffixes to schedule your message up to 24 hours in future as shown. This command is always working with your current time zone and available for everyone.
Format
/send Your message at 12.30pm

/send Your message in 1h30m
Examples
/send Happy Birthday! at 12am
/send I will be late for the meeting in 30m
/timy

general actions
Using /timy command, you can list your scheduled messages list, open timy web app and get a quick help.
Format
/timy list List scheduled messages list

/timy app Shortcut to open web app

/timy help Get some help
User Testimonials
Pricing
Start a 14 day trial period of PRO plan and get access to all features.
No credit card required and cancel at anytime.
Free
$0
per workspace
per month
Schedule messages in your time zone
Unlimited

/send

messages
Maximum schedule time is 24h
Access to Timy web app
Unlimited users
24x7 Support
Pro
$6.67
per
workspace
per month
when billed annually
All features of FREE plan +
Schedule messages in any time zone
Unlimited

/schedule

messages
Maximum schedule time is one year
Send recurring messages
Save time zone mappings for each user
Attach files to messages via web app
Get Slackbot notifications for scheduled messages
Edit/Clone scheduled messages
Pause recurring messages if you are away
User access management for admins
These prices are for the entire workspace and PRO plan will cost $8.34 per month when billed monthly.
*All prices are in USD and local taxes are not included.
Timy Web App
Timy is providing you an easy to use web app. Through this web app you can easily send new messages, manage your message queue, attach files for messages, edit/clone messages, manage app preferences and billing details.

Even if you can do most of the Timy stuff without ever leaving Slack, this web app will give you more control over your scheduling needs.
Go to App
Security
All messages you enter into timy remains yours, and we are committed to ensure that your data is kept safe and confidential. We do not copy or clone your documents in any way. timy does store some data on our servers since he needs to schedule your messages. All your messages are encrypted in a user specific way and once messages are delivered or canceled all the message data is deleted from the servers. Learn more...
FAQ
1. Is timy free?
There is a free forever version with some limited capabilities to schedule message up to 24 hours.
You can get access to more advanced features if you are upgrading to the PRO plan.
2. What are the available time formats for
/send

command?

at 8pm | 13.35 | 8:24pm | 1.10am | 3.24
in 1m | 1h | 2h30m

3. What is the maximum schedule time?
If you are on PRO plan you can schedule messages up to a year in advance. Otherwise it will be 24 hours for the free plan.
4. How can I view my scheduled messages?
Just type /timy list
5. What happens if I uninstall Timy from my workspace?
If you are on Timy PRO plan, your subscription will be automatically get cancelled. All scheduled messages in the queue will be cleared automatically. Anyway you can again install Timy at anytime and the previous message data won't be available.
6. I need some help on commands?
Sure. You can type /timy to get some quick help.
7. I need some help regarding pricing and billing?
You can visit pricing page for more information.
8. I have another question?
Sure. We're more than happy to help you. Send your question at support@serandibsoft.com.